We've come up with 3 unique ways to create flower beds in your garden that will give your outside space that look that makes everyone smile. This is the time of year we all love spending a lot of time outside. So, it's important to make it a beautiful and welcoming space.
Flower beds are the perfect way to add some color and dimension to your garden, even if you have very little space or gardening knowledge. Many gardens have very basic, dug out, flower beds that are great just not very inspiring. These flower beds will take your garden to the next level!
3 Unique Ways to Create Flower Beds in your Garden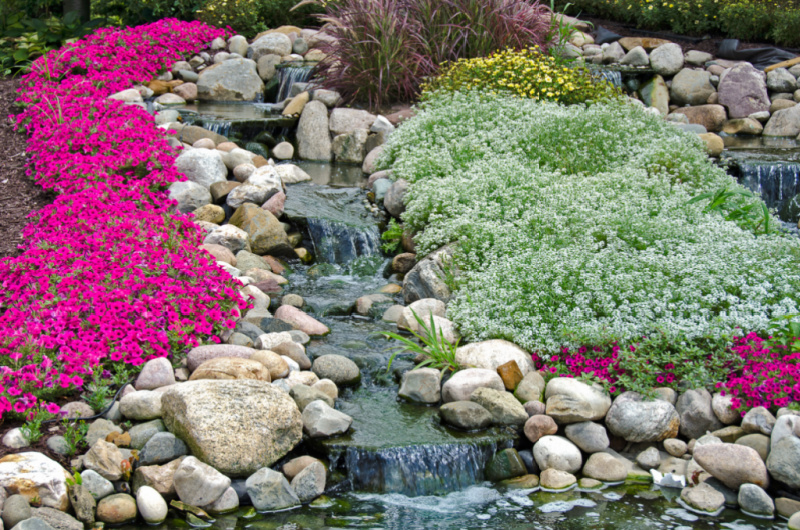 save
Rock Garden Flower Bed
Rock gardens are hurtling back into the top garden design trends this year, and we think these are a fantastic way to create unique flower beds. The best thing about rock gardens is that you can use pretty much anything to create a border, including broken crockery, old paving slabs and different sized rocks and stones.
You don't have to have a lot of gardening prowess, or the mind of a landscape designer, as a rock garden flower bed is all about your personal touches. Just ensure you have a large space in between rocks for the soil that will be the base of your flower bed; this will also help your plants spread their roots under the ground.
It may take a few times of rearranging before you decide where your rocks want to go, but once they're placed you can then plant your flowers. You can plant hardy flowers in between the rocks, and more gentle plants in the soil within your formation.
Railway Tie Flower Bed
This is one of our favorite ways to create flower beds in the garden because it creates extra levels and more dimension. First, you need to invest in some railway ties that are the right size for your desired flower bed.
Next, you need to lay them on the ground either surrounding your patch of soil or flat on the grass. If you're planting straight into the soil then you can just fix the ties together and keep building up until you're happy with the height.
If you're planning on laying them flat on another surface, make sure you use a liner inside, to stop any of your soil spilling out of the gaps. Attach your ties together using screws at the corners, and you've got yourself a stylish flower bed.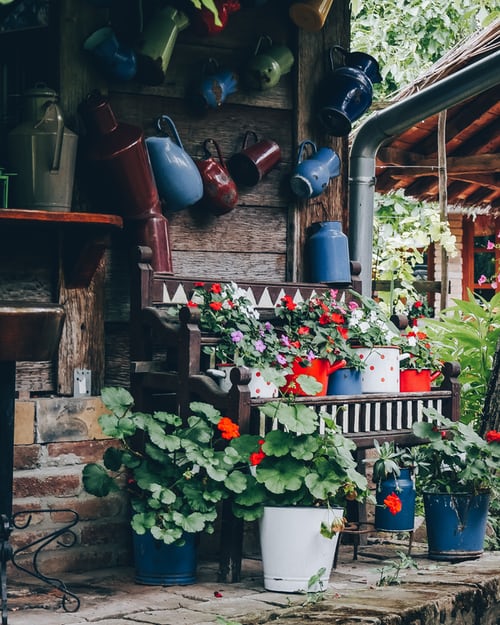 save
Potted Flower Bed
When you think of flower beds you don't necessarily think of potted plants, but this unique idea blows that misconception out of the water. A potted flower bed, also known as a container garden, is perfect for those who don't have a lot of space in the garden, or would prefer a neater looking outdoor space.
Try and find a whole range of different pots, pans, bowls, baskets, and whatever else you could possibly put a plant in. Make sure each pot is lined with something, before adding in the soil and your favorite seeds, bulbs or ready-grown plants.
Then, simply place them close to each other (leaving enough space for them to grow) and watch what happens in Spring. You can also decorate your pots and plant holders to create an artistic masterpiece.
Who knew that flower beds could be so fun? We hope these unique ideas have given you some inspiration for your garden; now it's just time to get the gardening gloves on.