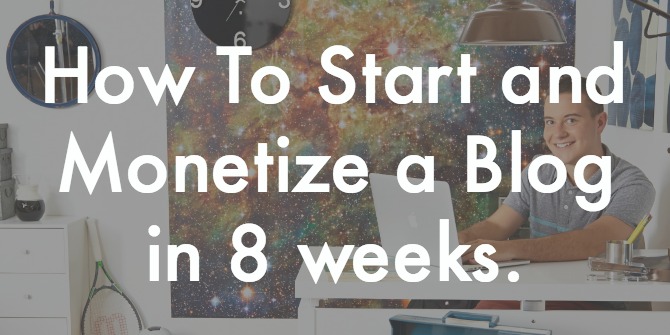 save


Today is the day. I have been waiting for this day to come since around February and I cannot believe it is here. Today is the day we're launching my BRAND NEW eCourse teaching you exactly how to Start and Monetize a Blog in 8 Weeks. In this eCourse I have compiled over 20 training videos on topics like creating a editorial calendar, writing a pitch to a brand, content development, and a LOT more. If you follow this 8 week course, you will be properly setup to build a blog of your own and start generating a income!
View Below | View on Youtube 

Table Of Contents : 
Week 1 : Setting Up Your Blog
Week 2 : Deciding Your Niche and Demographic
Week 3 : Creating Your Content
Week 4 : Social Strategy, what's that?
Week 5 : Monetizing Your Blog
Week 6 : Growing your LIST!
Week 7 : Working With Brands
Week 8: Blogger Q&A!
BONUS : You will be part of a 8 week newsletter that will be a community of new bloggers just getting started and you will be able to get your specific questions answered! We will be having exclusive live streaming events that will only be available to members of this 8 week course.
ACT NOW! For only the next 7 days you will be able to opt in at our introductory price of $67.
A lot of you may be asking, What if I already have a blog?
You will still find a ton of value in this eCourse. We're talking about developing content, working with brands, monetization, and more! All that already having a blog means is you have a head start. You're going to learn how to properly monetize your blog today in this eCourse.