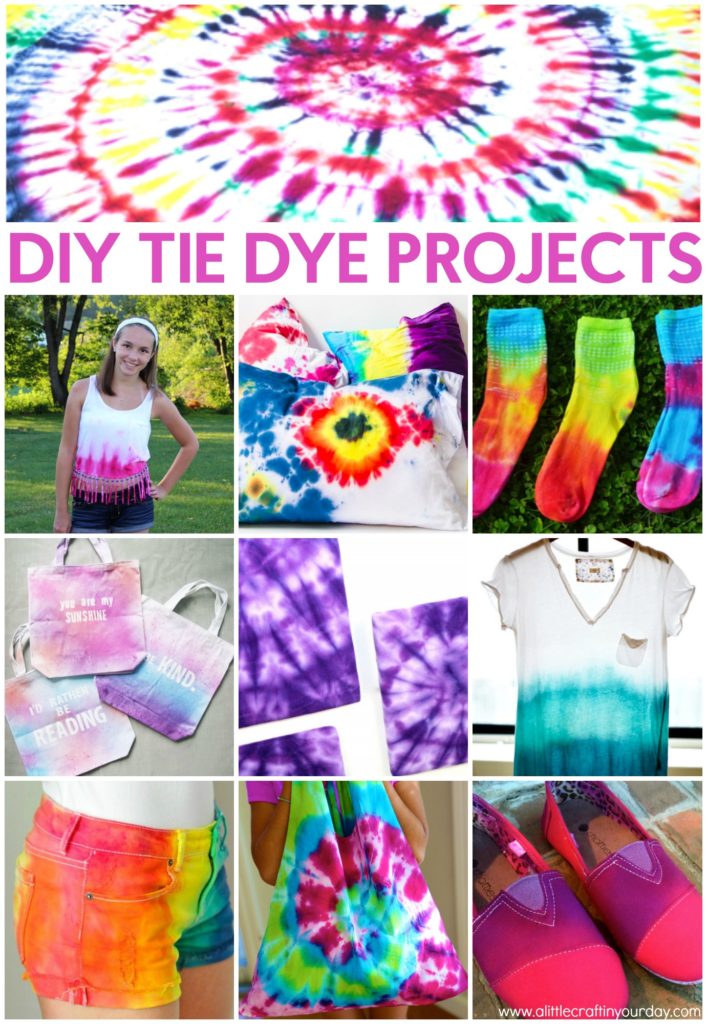 save


Let's be honest Tie Dye has never went out of style, and I doubt it ever will! That being said, Tie Dye craft ideas are definitely not limited, and the possibilities are endless when it comes to what you can create. You can make things like DIY tie dyed shoes, ice dyed pillows, and wax tie dyed shorts. There's limitless types, colors, and patterns of tie dying today, and you can check out a ton of ideas in the list we've compiled today! It's full of great DIY project ideas that involve the different types of tie dying and you're sure to love them!
This tie dye shoe makeover from A Little Craft in Your Day is a great way to personalize new shoes or refresh old ones
For something a bit different, try this sprinkled tie dye technique from Crafty Chica
You can tie dye customized curtains to match your room décor with this technique from I Love to Create
Bohemian wax tie dyed shorts from Jaderbomb are just the thing to brighten up your summer wardrobe
Have you ever seen Indigo Shibori tie dye before? These 16 projects from Homey Oh My showcase just how beautiful it can be.
This is a unique technique from Morena's Corner uses a stencils and glue tie dye method to create your design
Get ready for summer with a tie dyed beaded fringe shirt from I Love to Create
Did you know your designs don't have to be random? Have a look at this heart shape tie dyetechnique from FaveCrafts
You won't believe what this technique from Me Sew Crazy uses! It's an ice tie dye method!
Hold your hair back in style with these tie dye t-shirt headbands from DIY Candy
This technique from The Tiptoe Fairy uses bleach to create a reverse tie dye
This salt resist tie dye technique from FaveCrafts creates a subtle textured design.
Brighten up plain tote bags with this sprayed tie dye technique from Homemade Ginger
Super hero fans will love this Captain America tie dyed shirt from FaveCrafts
This method from Love to Sew utilizes a permanent marker tie dye technique instead of traditional dye
Tie Dye T-shirt Headband from DIY Candy: There are so many different methods and techniques and each project is unique. It's a quick, easy, and economical way to add some personality to a new

item

or to give new life to an old one.
Ice Dyed Pillows from Me Sew Crazy: With these tie dye projects, you can make something new to wear, something new for

your home

, or a great gift to give to a friend. Spring is coming and it's time to get colorful!