**This post is sponsored by Clover. Thank you for supporting the brand partners that make A Little Craft In Your Day possible.**
Hey everyone- I am so excited to share today's easy sewing project with you. I am sure you have noticed but just in case you haven't, SCRUNCHIES ARE BACK IN STYLE! I am really excited about this revived trend as someone who rocks a ponytail many times throughout the week. With this tutorial and the tips that are mixed in, you'll be sewing up your own DIY scrunchies in all kinds of patterns. You all really seemed to love the DIY Headbands that I shared a little while back, so I am glad to be bringing you another DIY hair accessory idea today.


save
Here is what you will need to make DIY Scrunchies: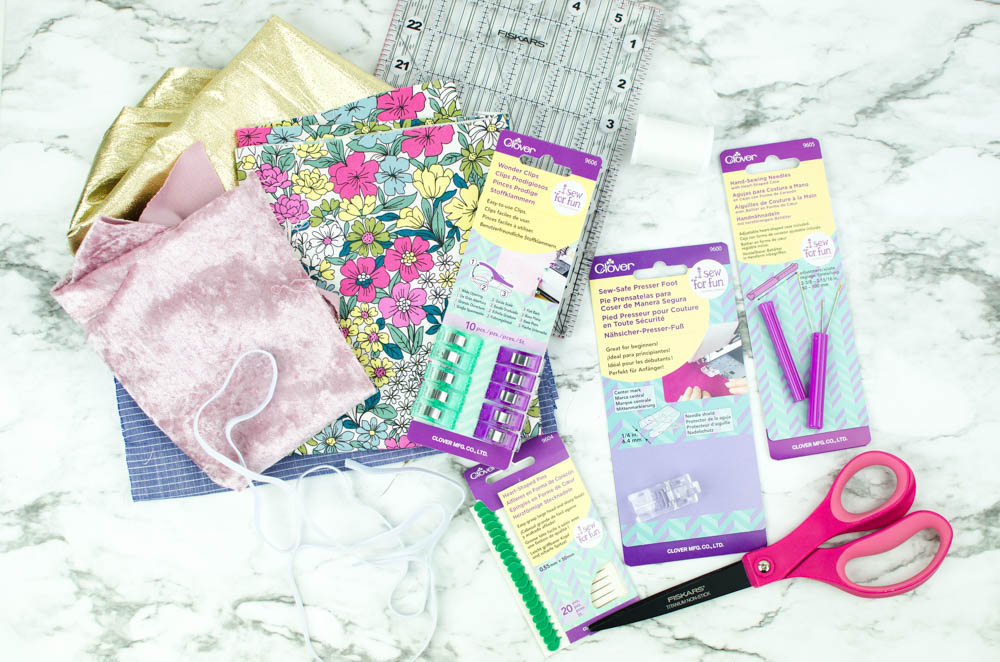 save
Fabric  (this is a great project to use up some scraps!)

¼ inch elastic

Sewing Machine

Thread

Scissors
Check Out How To Make This cool Zipper Makeup Bag
[adthrive-in-post-video-player video-id="5cMW6e9S" upload-date="2018-06-07T16:58:52.000Z" name="Zipper Makeup Bag" description="Today we have another fun and easy sewing tutorial for you! I am going to show you exactly how to sew a zippered makeup bag. It is a boxy pouch that is perfect for storing all your makeup when you travel."]

Step One: Cut a piece 3.5 by 18 inches.

Step Two:  Switch out the foot of your sewing machine for the I Sew For Fun Sew-Safe Presser Foot. It is great for young sewists because it deters little fingers away from the needle area.

Step Three: Fold the piece of fabric in half lengthwise, hotdog style,  with right sides together. Use the heart-shaped pins to keep the edges lined up.

Step Four: Sew down the long side starting 1.5 inches from the top and using a ¼ inch seam allowance. Leave 1.5 inches unstitched at the bottom too.

Step Five: Remove the pins and flip the fabric right side out.

Step Six: Match the two ends up with right sides together. Pin and sew them along the edge. This will create a ring of fabric will a gap on the side.

Step Seven: Cut an 8 inch long piece of the elastic.

Step Eight: Using a Wonder Clip, attach one end of the elastic to the open part of the fabric. Clip another Wonder Clip onto the other end of the elastic. Use the Wonder Clip to guide the loose end of the elastic through the fabric ring until it meets the other end.

Step Nine: Tie the two ends of elastic together with a double knot.

Step Ten: Sew the gap closed using a thread and a hand-sewing needle from the I Sew For Fun line. Don't you just love the cute little heart shaped case they come in? You'll want to use a hidden or slip stitch for this so that the stitches aren't seen. Be sure to pull the thread tightly as you go.

Just by changing up the fabric, you can create so many cool DIY scrunchies! I made one out of some fun gold metallic fabric. The velvet fabric one is definitely my favorite though! After your first one, they only take about 20 minutes to make from start to finish! You could literally make one to match every outfit!