**This post is sponsored by Coats & Clark. Thank you for supporting the brand partners that make A Little Craft In Your Day possible.**
Hey friends- happy almost weekend! Today I have a fun simple sewing tutorial to share with you that would be perfect to try out during your free time this weekend. It is a wardrobe hack of adding zippers to your shirts! I have a sweatshirt that I got for Christmas with zippers on the side and I can't tell you how many compliments I have received on it. With that as my inspiration, I decided to add some flair to t-shirts with some zippers. I love the look and you will too.

Here is what you will need to add zippers to your own shirts:
The shirt you want to add zippers to

Fabric scissors

Sewing pins

Sewing clips (optional) 

Sewing machine

Zipper foot for your sewing machine
Also, Check Out How To Make This Lace Trimmed Shirt!
[adthrive-in-post-video-player video-id="LrpRBoII" upload-date="2018-06-07T15:25:31.000Z" name="Lace Trim T-Shirt" description="Today I'll be showing you how to make your very own DIY Lace Trim Shirt. It can be added to any shirt and you don't have to be a master sewist to pull it off."]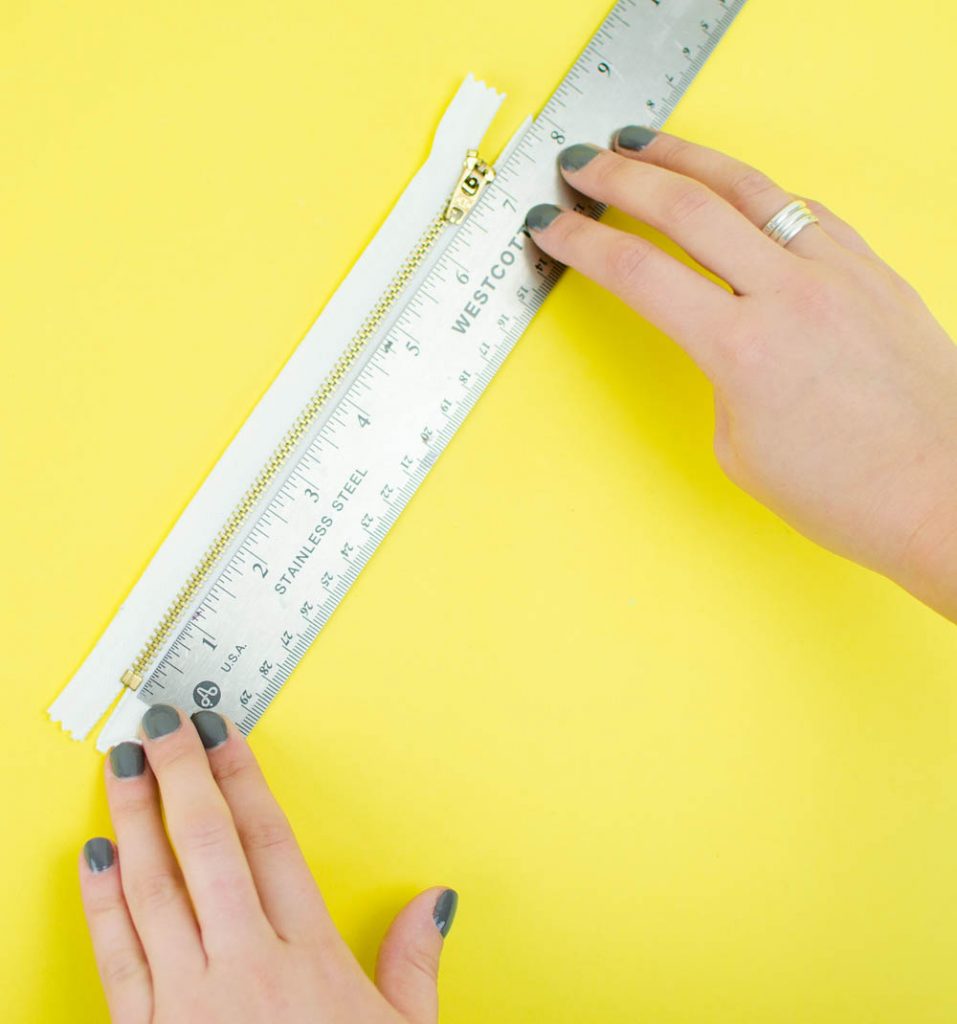 save


Step One: Decide where you want your zippers to be. Some fun places are on the sleeves, the sides, or 1 on the back. Once you decide where you want your zippers, you want to measure them exactly. Don't just go off the measurement on the package.

Step Two: Cut a slit to that length at each place you want a zipper to be.

Step Three: Fold the raw edges on both sides of the cut under a ¼ and pin or clip.

Step Four: Sew the hems with a ⅛ inch seam allowance.

Step Five: Unzip the zipper and place it in the slit.

Step Six: Pin the zipper in place. For the best results, you will want the fabric as close to the zipper teeth as possible without it getting in the way of it zipping.

Step Seven: With the zipper foot on, sew the zipper into place. Go slow up one side, turn the fabric with the needle down to sew the end. Stop sewing and start again up the other side.

Step Eight: Cut any loose threads.

So far I have added zippers to the sides and the sleeves of some of my shirt. I think a long one down the back of a tank top would be really fun too! I hope that this has you rethinking some of the basic articles of clothing in your closet and dreaming up ways to jazz them up!

As always, if you have any questions leave them in the comments and I will get back to you as soon as possible because I really want you all to be successful in your endeavors of sewing with denim and create beautiful things.