This post is sponsored by Color Scents and all opinions are my own.
I want to talk to you guys about trash! Well, not actual trash, but what you throw your trash in.  I had no idea what a huge difference scented bags made until I tried them. Color Scents has made a new trash bag that I have to say is pretty epic. They're super stretchy and thick from top to bottom, and they're the 13 gallon Tall Kitchen size! The thickness and pattern they're made with helps to resist tearing and punctures which means you can put more in your trash bag. They have revamped the Linen Fresh Color Scents Stretch bags to a cool silver/gray color.
The Right-Fit
®
Drawstring that holds strong when you secure the bag around your can or when you're pulling the bag out. They're great bags! Since they're new, for a limited time you can also take advantage of the $1.00 off coupon on the package when you buy them in-store at Walmart. They're strong, they look great, and smell amazing. Escape the Ordinary™ with Berry Plastics Color Scent trash bags.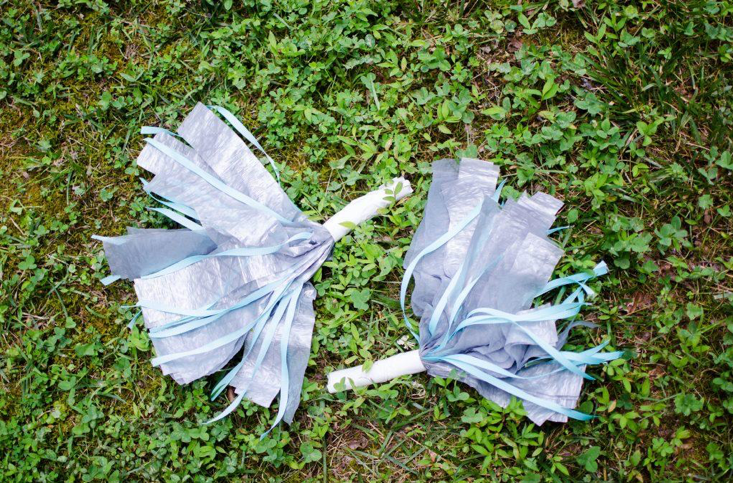 save
Since we're crafters here, I decided to take it to the next level and make some super fun DIY Rally Pom Poms to cheer on my friend's softball team this summer. The silver is great because it has a shimmer!
[adthrive-in-post-video-player video-id="8MJlSI0q" upload-date="2018-07-06T15:31:03.000Z" name="DIY Rally Pom Poms" description="These DIY Pom Poms were so easy to make with trash bags. I love how the new gray color looks in the pom poms "]

Ribbon in your team's color
Duct Tape
Scissors
Step One:
Cut the top off of the trash bags.
Step Two:
Cut them into 1/5 inch strips. (I used three for each Pom Pom)
Step Three:
Cut a bunch of strips of ribbon to the same length.
Step Four:
Make a pile alternating between the strips of trash bags and the ribbon.
Step Five:
Pick up the pile in the middle and tie a knot about 4 inches down with a piece of ribbon. This will be the handle.
Step Six:
Wrap the handle tightly in duct tape.
Step Seven:
Throw any leftover scraps into the trash can that has a Linen Fresh Color Scents Stretch Tall Kitchen Trash Bag in it!
These DIY Pom Poms were so easy to make with the
Color Scents Stretch Tall Kitchen Trash Bags
. I love how the new gray color looks in the pom poms not to mention how great they go with my stainless steel trash can! My friends are sure to win the rest of their softball games not that I have these to cheer with!