Hi everyone, today on the blog we're talking about Blank Items To Use With Your Cricut. We are so excited to be sharing with you some of our favorite blank items that we are able to use with our die-cutting machine. These are things you can find at the craft stores, department stores like Target and Walmart, and more. With them, you'll be able to make some really awesome  personalized items.
1.Canvases
Using canvases became a trend and they are perfect for using for beginner projects with your Cricut. Canvas is a great way to get started. One thing I love about it is that there are several different ways to go with them! You can use them for reverse canvases, hot mess canvases, and so much more. They're usually white so you're able to paint them and do whatever you want to them. You can even use iron-on or stencils with them.
2.Ozark Trail Tumbler
When they first came out with these, people were raving over the prices and quality of these. They're so awesome for many different things you can make. For example, you can use them to make a quick vinyl decal and just slap it on or use these for glitter epoxy tumblers – that's one of our favorites! These are just all across the board perfect for use with your Cricut.  There's lots of different inspiration and things to do with these. They come in a variety of different sizes and you're going to love using them when crafting. Make a personalized gift out of one and you'll be the hit of any party.
3. Clipboard
We love picking up items like this in Walmart or the Target dollar spot or similar places. They're already finished items that you can spice up with a customized design.  If you need a teacher gift idea at the end of school year, beginning of school year, or you know someone just graduated and you want to give them a customized clipboard for them to use in their classroom with their favorite colors, this is a great way to take something you would buy in bulk and really personalize it to make it very much your own. This is a great project for making money with your Cricut too!
4. Shirts
You can pick these up at Michaels and they often have deals running for them. I always look out for them because when they have a deal on them, it generally lasts for about a week and it's probably one or two weeks out of every month. You can get three t-shirts for $10 which is a great deal! They have them in so many different colors, sizes, and styles. This is quite a bargain compared to other stores.
5. Mugs
You can get these from the dollar store, Walmart, Target, wherever you love getting blank mugs in your favorite colors. This is a great thing to have on hand when you have a few hours and you want to craft something from beginning to end. They make great gifts.
6. Hats
You can get hats like this from Hobby Lobby for only$2.99.  You can get tons of different hats at Walmart too for only $2-3 too that are a little bit trendier. You can dye these hats just like you can dye pillow covers but these are really great to iron on too.
7. Pillow Covers
This is perfect for you guys to use iron-on and we really love to dip dye them too. We pick up these pillow covers from Hobby Lobby where they're made from a cotton canvas material that's easy to work with and inexpensive. There are two different ways to stuff these pillows. We often buy pillows from a store like Walmart which are like $1.99 or $2.99 –  you get a lot of stuffing in those really generic affordable pillows! We use the stuffing out of those because buying stuffing from a craft store can be really expensive. You can also get the pillow forms that fit your pillow covers perfectly if you want to save some time.
8. Chalkboard
These are really fun and you can get these at the craft store and in the dollar spot at Target. These are really great for vinyl too. if you're wanting to customize this as a housewarming gift or anything like that, simply create a project in Cricut Design Space.  and you could use one of our fonts in Makers Gonna Learn to customize it. You'll have a really easy and fun gift idea that's super personalized that they couldn't find anywhere else. These are really fun to keep in your stash.
9. Wood Panels
Imagine a canvas but they're made of wood instead.  These are really awesome. We use these a lot in our craft room! There are many different types and shapes of wood pieces. For example, they even have some amazing circle pieces of wood that look a little bit more raw and natural. These as well are perfect for ironing on. If you want to iron on wood the number one thing o remember is that you need smooth flat wood that doesn't have a lot of texture. You want to get that really great adhesion and to be able to let that iron touch the wood. If it's warped or otherwise bumpy,  you're not going to be able to get that.
10. Metal Pots
We always put faux plants in here and they're really affordable! We get ours at IKEA. You can personalize these and we love to do inspirational quotes on these and it's so much fun! We love these little pots and you can stock up on them and keep them in your stash for quick and easy projects.
11.Doormats
Be sure to check out your dollar spot area and I say that for a few different reasons! It's always changing so there's tons of trendy things there that you can use with your Cricut to personalize. They always have such a great selection for the holidays and a lot of our projects are based around things that you find at the Target dollar spot. That's where we found these amazing doormats.  They make really great wedding and housewarming gifts!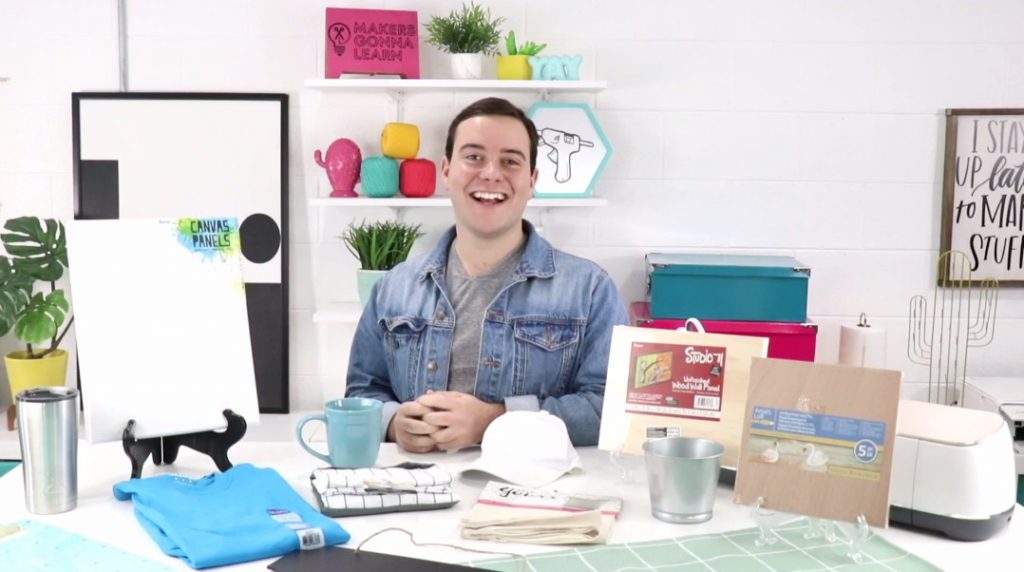 save
I hope you all enjoyed learning about these Blank Items To Use With Your Cricut. This is something people always ask us about. As a beginner, it's easy to feel overwhelmed about what you can use with your Cricut. I hope this answered a lot of those questions for you. If you have any burning questions still unanswered, please leave us a comment down below and we will get back to you.