We love summer recipes! There's just something so special about sitting out in the backyard or going on a picnic and eating some yummy grilled foods with those amazing side dishes. Today, we've rounded up the best pasta salad recipes we could find to share with you. These are perfect for any summer meal.
The Best Pasta Salad Recipes
Use these pasta salad recipes as side dishes or mains. Either way, they are scrumptious!
This could definitely be served as a main dish with the delicious Italian meats added to it. It's a substantial salad that is sure to be a hit.
Simple, but scrumptious. You could whip this one up in minutes.
Inspired by Mediterranean flavors such as you might find in Greek Salad, this is a delight to the tastebuds.
We are always a fan of adding fruit to our salads and this one with strawberries looks light and refreshing.
All those yummy BLT flavors rounded up in a tasty pasta salad. Who's in?
This looks like someone took our favorite hot pasta dish and turned it into a salad. We're here for this one!
Packed with flavor, this filling salad is going to be an instant family favorite!
Roast veggies for your dinner one night, making a little extra, and then use the leftovers in this yummy salad.
The balance of tuna, pasta, and the saltiness of the capers has our mouths watering.
If you love Mexican street corn, this pasta salad with the same flavor profile is a must-try.
Have you ever tried Haloumi? It's a semi-hard unripened cheese with a high melting point making it ideal for grilling! Added to a salad, it adds a creamy texture that nicely balances out the crunch of the vegetables.
We love turning tortellini into salad! It's like a full meal in a bowl.
Looking for something a little bit different? Try this warm pasta salad served with salmon. Fresh and refreshing!
This is like a cold version of mac and cheese taken to the next level. Add bacon or ham if you'd like or leave it vegetarian. Pineapple, peas, and corn are some other yummy additions.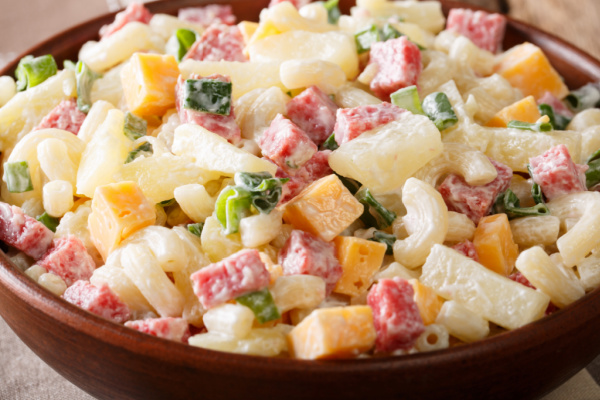 With these recipes, you should be all set for summer BBQs and picnics!