Summer is right around the corner and we are ready! Today, we're sharing 10 ways to welcome summer that you are going to love. These ideas will get you ready for the summer season in a flash.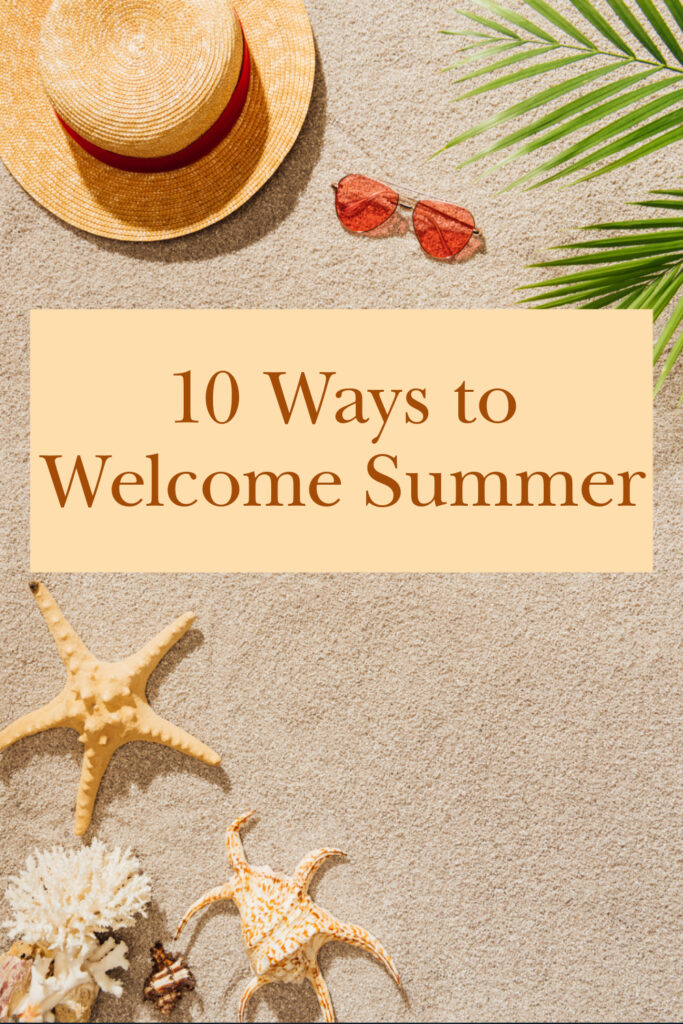 save
10 Ways to Welcome Summer
1 – Set up a basket by the back door filled with flip-flops, throw blankets, wraps (like Pashminas), sunscreen, insect repellent, hats, matches, and other backyard necessities. When you're ready for an afternoon or evening outside, just grab and go. Have a few extra items for guests too! Be sure to check the expiration dates on your sunscreen.
2 – Put together a summer fun bin for the kids too. Include things like water balloons, bubbles, beach balls, jump ropes, shovels and pails, sidewalk chalk, and anything else the kids might want to use in the backyard. Don't forget hats and sunscreen!
3 – Sit down with your family and write out a summer bucket list. Get those ideas you have for summer fun down on paper so you don't forget!
4 – Check your local tourism office and find out what's happening in your area for the summer. There are often lots of free activities you and your family can take part in. Be sure to add the ones you want to do to your calendar.
5 – If you visit any places like the park, swimming pool, or beach on a regular basis, put together a "go bag" for each place. It makes it so much easier to head off on an outing on the spur of the moment. You can even create a picnic kit that is all ready except for the perishables.
6 – Assemble a summer craft kit. Buy some items from your local dollar store- pompoms, popsicle sticks, construction paper, crayons, pipe cleaners, clothespins, yarn, paper plates, pony beads, and so on. This is a perfect box of goodies to whip out when the dreaded cries of "I'm bored" begin.
7 – Stock up on the ingredients you need to make some delicious summer snacks. Summertime seems to bring out the hungry in kids! Don't forget to make or buy some ice pops!
8 – Freeze some aloe vera gel in ice cube trays just in case someone does get a sunburn. Soothes and cools the skin at the same time!
9 – Place chicken and other meats in a marinade in a freezer bag. Store in the freezer so you're always ready for a spontaneous cookout. Thaw and cook. The meat will be perfectly marinated in the freezer – in fact, we find this the best way to have it really soak up the marinade!
10 – Even if you aren't going away on vacation, schedule some time off during the summer. Having some open days on your calendar where you and your family can simply head out and enjoy the summer can really add to the fun and relaxation of the season.