There's more to choosing thread for your sewing projects than simply finding a matching color. Some people just reach into their sewing baskets and find the best match, but really, if you want to complete the best sewing project possible, there's more to consider. You need to think about the fabric you are using and the project you are making. In general, the thread you use should match the thickness, weight, and other properties of the fabric you will be sewing on. Factors such as weight and thickness, fiber content, and purpose of the finished article should all be taken into account. That is why I have decided to write this post which can act as a guide for picking thread type.

When you are sewing with thicker fabrics, you're generally going to want to use a thicker thread as well. This will give your stitches more strength and stability. A thinner thread just may not hold your project together over time. The same is true with heavily used items. If you are sewing a quilt that is going to be used as a wall hanging, you likely won't need thread that's as strong as if you were sewing a wallet. Opening and closing the wallet repeatedly will put stress and strain on the stitches. A heavier weight thread will be important here.
Cotton and silk thread:
Being made of natural fibers, these are ideally suited for natural fiber fabrics such as cotton, bamboo, silk, and wool.
Cotton thread has very little stretch to it and is prone to breakage. Like silk thread, cotton easily withstands high temperatures. Look for mercerized cotton thread if you'd like a smooth finish with low sheen that's ideal for dyeing. Cotton thread is often used in decorative stitching, quilting, patchwork, and sewing of heirloom fabrics and projects.
Silk thread is quite strong and able to easily withstand high temperatures. It has a smooth, lint-free finish with a lovely sheen to it. Silk thread comes in vibrant colors that don't run or fade. It is ideal for basting as it is less likely than others to leave holes in your fabric. Silk thread is an ideal choice when sewing on silk or wool.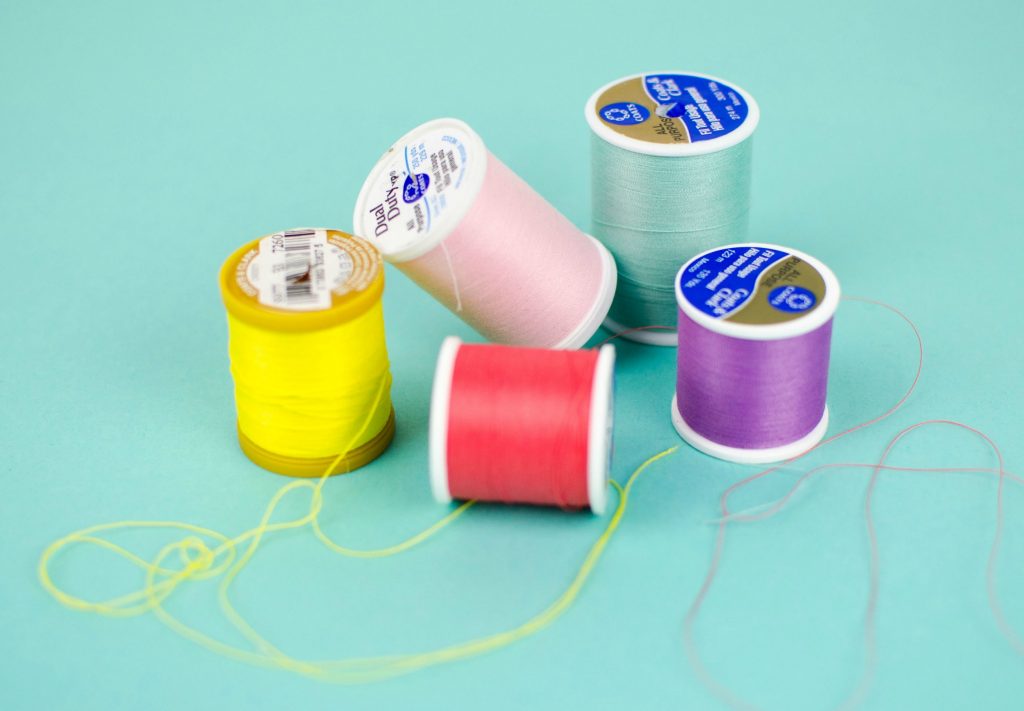 save


Polyester and all-purpose threads:
Being made with synthetic fibers, these threads are well suited for polyester and synthetic fabrics.
Polyester thread has more give to it than cotton, making it a better choice for many sewing projects. It cannot withstand high temperatures though, so it is better used with synthetic fabrics which will be ironed at low heat. It is a smooth thread, often coated with wax or silicone, making it glide through fabrics more easily than many cottons. Polyester comes in a wide variety of colors and like silk, is colorfast.
All-purpose threads are generally made of 100% polyester.
My favorite is Dual Duty XP from Coats & Clark. It is a super high-quality thread, widely accessible, and available in a plethora of colors. It is has a polyester core wrapped with polyester which makes it durable.
Specialty threads:
Probably the most common kinds of specialty threads are elastic, metallic, and invisible. As the name implies, these aren't the most widely used types of threads, each having very specific purposes.
Metallic thread
is one that has been wrapped in metallic polyester. It is most often used for embroidery and other decorative detail work. It is so pretty and comes in a bunch of colors.
Invisible thread is used, obviously, at times when you want your stitches to blend in perfectly with your fabric. This can come in handy when you are having difficulty matching a thread to your fabric or using a highly patterned fabric. It's often used for quilting and upholstery. One important thing to note is that invisible thread does not withstand high temperatures and will melt.
Clear invisible thread works well with light colored fabric while the transparent smoke kind tends to work better with dark colored fabrics. It can be a bit tricky to get the knack of sewing with invisible thread as it tends to be a bit slippery and has a lot of give to it. Practicing ahead of time is advisable.
Eloflex is a stretchable sewing thread for use on knit or stretch fabrics. It has elastic properties and can be used with straight stiches – it doesn't require any specialized stitches.
Elastic thread is used for specialized techniques and projects. It is placed in the bobbin while using a standard sewing thread on top. Elastic thread obviously has a lot of stretch to it, giving you the ability to create a smocked, gathered, or shirred effect.
Remember, when you change the weight or thickness of your thread, you will also need to adjust the tension on your sewing machine. Some threads require special needles as well. And if you're shopping for a thicker thread, be sure that you have a needle with an eye that's big enough for it too. The thread needs to fit through with some wiggle room.
Picking the proper thread type for your sewing projects really is quite simple. Consider your fabric type and the purpose of your project and you'll be all set.
Coats & Clark
has a wide variety and you can learn about their products more in-depth on their site.
Check it out here
! What will you make next?